The Family of Don Bosco, developing its characteristic spirituality of charismatic origin, enriches the whole Body of the Church with a model of Christian life all its own (holiness). Bearing witness to this are the numerous ranks of the spiritual sons and daughters of Don Bosco already declared saints or proceeding along the path of beatification and canonisation. (Art. 6)
…It is to this God, the merciful Father that Don Bosco addressed his heartfelt prayer: "Da mihi animas, cetera tolle". To all his disciples, men and women, Don Bosco repeats: "The most divine of all divine things is to cooperate with God in the salvation of souls, and it is a sure path to the highest holiness". (Art. 23)
The spirituality inherited from Don Bosco is eminently ecclesial: it expresses and nourishes the communion of the Church, building up within Christian communities a network of fraternal relationships and of active collaboration; it is an educational spirituality that sets out to help young people and the poor to feel at ease in the Church, and to be builders of the Church and to be participators in her mission; it is a spirituality which enriches the whole Church with the gift of the holiness of so many of his sons and daughters. (Art. 26)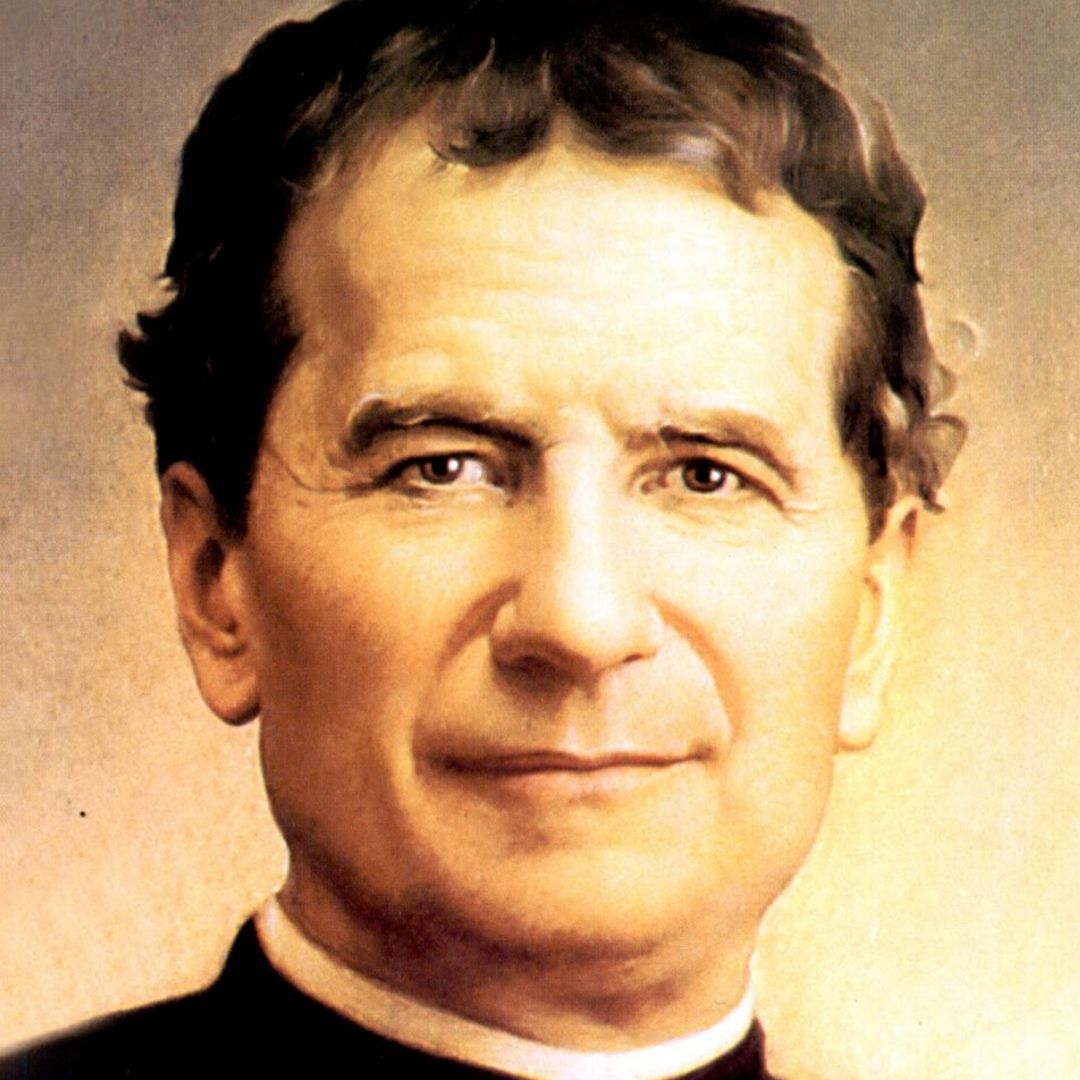 S. John Bosco
Castelnuovo 1815 - Torino 1888
MOR
John Bosco was born in Castelnuovo – Asti on 16 August 1815 from a family of farmers, whose father left him an orphan when he was only two years old, where his mother, Margarita Okina, found herself alone to bring up Antonio, Josepe and John, and because Mama Margarita was firmly associated with sweetness and Endless Faith This wise nanny has transformed her family into a family church.
John began to feel from his childhood a desire to become a priest, and he narrated that he saw at the age of nine a dream that revealed his vocation to him, since he was young, John began attracting his friends with light games. 
John began his theological studies, and continued his studies until he was forced to leave his home because of the refusion of his brother Antonio, who wanted John to work in the fields and stop studying, and when John became a student at the Theological Institute he established the group of "Joy"
In June of 1841 John ordained a priest, His spiritual guide, Father Kafasso, advised him to continue his education at the boarding school
Meanwhile, Don Bosco collected the first boy around him and organized Oratorio, who was initially temporary and then converted to permanent, in Valdocco – Turin
Among the first boys, the first assistants also came out, and so the well-known educational method called the preventive educational method has evolved and with time, these assistants, with the help of Pope Pius IX, have become a monasticism that aims to save the souls of young people, so that all kinds of poverty are fought with a slogan, give me souls, and take The rest
 In 1859, the Association of St. Francis di Sales saw the light, which is the Order of the Salesian Fathers and with the help of Saint Maria Dominica Mazarillo, Don Bosco established the Association of the Daughters of Mary, Mother of Aid, and with the help of philanthropists and laity committed to breathe life into the Auxiliary Salesian Society.
Don Bosco died and was burdened with fatigue at the age of 72 on January 31, 1888
Today, the Salesian existed in 133 countries, and Pope Pius IX, who knew him personally, declared him a blessed in 1929 and then a saint on Easter on April 1, 1934.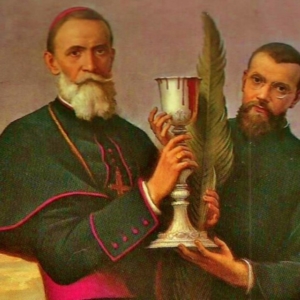 S. Luigi & Callistus
China - 1930
MOR
Luigi Versilia was born in Pavia – Italy in 1873 and at the age of twelve he was received by Don Bosco among his children and this saint priest charmed him, until he decided to become a Salesian and a missionary specifically, so he obtained a degree in philosophy and was ordained a priest in 1895
At the request of the Bishop of Macao in China, he went there with six Salesians to spread the spirit of Don Bosco. There he opened an orphanage and a chapel as well. In 1918, he was ordained a bishop for the Xiushu Mission, and during this period, Christians and foreign missionaries in China were subjected to difficulties that soon turned into persecution.
In 1921, Bishop Versilia met Calisto Caravario, who was born in Turin in 1903, and Caravario said: "To the meeting in China." Indeed, this young man kept his promise, after having been ordained a priest who accompanied the Mgr. To China as a Salesian missionary.
In February 1930, Versilia and Caravario were on a pastoral visit, accompanied by a group of girls and boys when a group of pirates stopped the bishop's boat and tried to kidnap the girls, so Bishop Versilia and Father Caravario prevented them with all their strength but they were killed in the end, and before they died, they managed to confess to each other , and then they both breathed their last breath for the love of young people.
Pope Paul VI declared them martyrs in 1976, and Pope John Paul II declared them as blessed in 1983 and finally saints on October 1, 2000.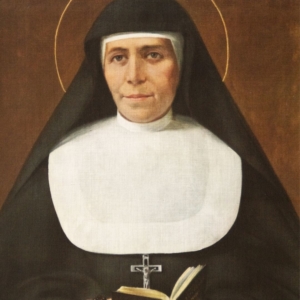 S. Maria Mazarello
Mornese 1837 - 1881
MOR
She was born on May 9, 1837 in Mornese – Italy, Maria was distinguished by the will, intention, and capacity to sacrifice. She spent her time working in the field, helping her mother in house matters and raising her brothers, and this did not prevent her from committing to the activities of the parish. Thus, she meditated on the Lord in her daily work
She joined the Association "Daughters of Mary, the Immaculate Conception" in 1855, and took care of those with typhoid infection from the residents of Mornese .
In 1864, for the first time, Don Bosco met and founded the Association of the Daughters of Mary, Mother of Aid, in 1872. Mother Mazarello died on May 14, 1881.
Pope Pius XI declared it as a blessed on November 20, 1938, while Pope Pius XII was raised by a saint on June 24, 1951.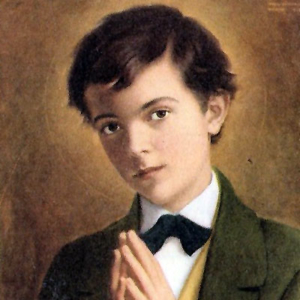 S. Domenico Savio
Chieri 1842 - 1854
MOR
Domenico Savio was born in (Chieri) near Turin in Italy on April 2, 1842, Domenico lived in a Christian family that taught him the love of God and the importance of prayer and since his childhood he was praying warmly and serving the Mass with great impulse and love. contrary to the prevailing customs of that time where he was not entitled For children born before the age of twelve, Domenico received his first communion at the age of seven and that was a great event for him. He got acquainted with Saint John Bosco who was at that time a priest caring for the youth and who once asked him: What do I have to do to become a saint? Don Bosco replied, "Do not neglect your work of strengthening and studying and playing joyfully with your comrades."
Domenico understood the sacrament of holiness, and he encouraged his companions to confess and care for the new boys, he helped his sick companions.
One day, everyone noticed his absence, and when Don Bosco was informed about, he looked for him and found him in front of the Eucharist meditating on him, and he had been standing for seven hours without feeling the passage of time
Domenico's dangerous illness caused doctors to return him to his home, where the fresh air was in the hope of his recovery. But his illness worsened, he moved to heaven with great joy on March 9, 1857, and he was fifteen years old.
Domenico from the heavenly kingdom continued his love for his young friends and obtained many blessings and heals, including the miracle of healing a boy called "Albano Sabatino", 7 years old in 1927.
Pope Pius XII declared him as a saint on June 12, 1954, and he is the first saint to announce the church at the age of fifteen.